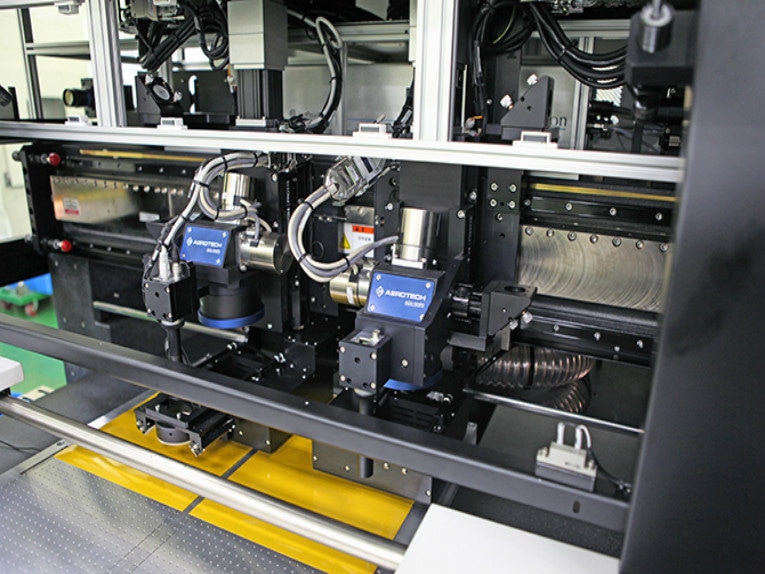 The linear, rotary, XY, or vertical-lift stage integrates motor, drive, and controller.
There's demand for motion designs offering simplicity or turnkey operation, so component suppliers are now doing much more integration for OEMs and plant engineers. Nowhere is this more evident than in the way today's positioning stages, rotary tables, and gantry setups are built.
These quickly connect electrically and mechanically — and easily network to each other and supervisory control systems such as PCs. Of course, increased need for networked controllers and drives has come with ever-faster communication protocols such as EtherCAT. We also see more demand for complex systems, which is why we offer precision motion and automation in the form of everything from simple gantries to complete purpose-designed multi-axis motion systems.
Other manufacturers leverage the power of automation controllers designed to control axes of motion as well as the rest of the machine. These accept all I/O for seamless control of whole operations — which relieves OEMs and plant engineers of the burden of integration. We've successfully capitalized on this trend to complete system-level solutions. FUYU's electromechanical products come as motion-control components, but the supplier also offers integration services to combine all these components into complete turnkey solutions if needed.
About 60% of the business does is custom systems, and that's largely to reduce design complexity for customers. A design team might call us with a completely unique application that our standard products can't solve. Here we'll leverage the power of our engineering resources to build ground-up solutions and then integrate its motion components — sometimes even building the panel and integrating controls, for example, a cartesian setup with enough accuracy to allow imaging of progenitor cells in life-science studies and production for treatment.
In the current automation environment, we also see an increase in simplified, turnkey-operation indexing devices. With indexers, there's continued migration towards thin geometries, direct-drive setups, and fully integrated designs. The request we're getting more often now — particularly in the miniature rotary-tables segment — is for high-speed rotary tables that directly compete with servo motors on speed … while providing all the advantages and features of rotary tables.
Design engineers are also looking for compact form factors and lightweight rotary solutions to integrate rotaries into host manufacturing equipment … particularly with precision XY positioning stages. Direct-drive rotary servo stages can fit the bill here as well. Specialty motoring modules are built into the stage in a planar-like fashion. A zero-cogging and zero-hysteresis magnetic motor imparts speed constancy even from sub-rpm to a few thousand rpm.
But smaller indexing drives aren't the only ones that are increasingly integrated. Even tables many meters in diameter running at a couple hundred rpm are now bought (in many cases) fully engineered or setup for flexible operation. OEMs and plant engineers are more frequently asking for complete solutions that can simply be powered and run. We also see machine builders and end users seeking more general solutions that can easily adapt to future applications.
Rotary, linear, and lift and Z-axis positioning stages have all seen more upfront customization over the last few years. This trend is not unexpected, as it mimics the general move towards higher levels of expertise and abstraction seen in many industries. It's a common refrain that our customers leverage our motion control and precision-engineering expertise to free internal resources for higher-value process tasks. This lets them bring their process and product to bear faster and more efficiently.
The manufacturer recently changed how it cultivates and focuses internal knowledge — creating distinct areas of technical excellence for project and application-engineering staff to pursue. We've also expanded the scope of operations for our global technical-support staff to provide advanced services to customers through project startup and implementation phases.
In a different move, Motion Index Drives has added capacity to provide more in-house services on both the mechanical and controls ends. The large integration sources have wanted more components to be completed when they arrive. So, we've added design and engineering of value-added and customized solutions, such as baseplates, riser weldments, frames, slip rings, and tool-tray transfer systems. We've also added complete control-panel delivery with our indexing devices. Panels are powered, tested, and tuned with the indexing drive prior to shipment, which eliminates a lot of debugging and startup time at the integration source.
---
Post time: May-25-2020