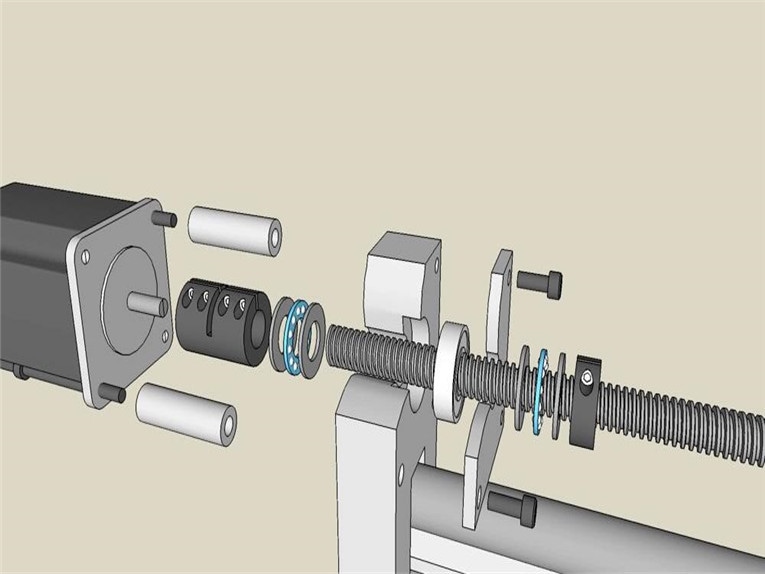 Calculate Linear and Radial-bearing Life, Ball-screw Life, Ball-screw Critical Speed, and Deflection of the Support Profile
When considering whether to make or buy a linear system, think about the engineering time and expertise you'll need to design the system from scratch. You'll need to calculate linear and radial-bearing life, ball-screw life, ball-screw critical speed, and deflection of the support profile, among other parameters. You'll also need to select a lubricant and lubrication system, and design a cover to keep out contaminants.
You could supersize the system to shorten design time, but the final system will cost more and take up more space. And you'll still have to do a basic engineering review to make sure you didn't miss anything.
On the other hand, if you decide to buy your linear system, there will be times when standard catalog products do not meet the requirements of the application. You may need to have the vendor modify a standard product or design a component from scratch for you.
A vendor with a broad range of products and engineering capabilities can partner with you to solve the problems your application presents. The end result is that you'll save time and money and speed up your development cycle.
Application Engineering Example
Engineers walked three distinct applications, each from a different market, and each with a 500-lb load. They arrived at three very different end results due to the variations in environment and application details.
【Application 1】 – Packaging:
A linear unit is needed to vertically position an automatic shrink-wrapping machine. For safety reasons, the vertical orientation drives us toward a ball screw. While the sealing, speed, and accuracy requirements are low, the moment loading is quite severe due to the rotational wrapping motion. The high moment load drives us to a ball-guided carriage.
【Application 2】 – Machine automation:
A linear unit needs high acceleration and smooth operation for a paint-spray booth. The 1.5-m/sec speed requirement points to a belt drive. Additionally, the application needed to be maintenance-free, which drives the selection of a slide guide. Although the overhanging spray arm could present a severe moment, using two synchronized slides eliminates the potential moment.
【Application 3】– Dispensing and filling:
A linear unit is needed to quickly position the dispensing head. Throughput is the most important matter; a belt-driven, wheel-guided unit can deliver the highest speeds. Zip-lock sealing protects the unit from spills or splashes. A slightly larger frame size supports the underhanging dispensing head.
---
Post time: May-27-2019